Hardwood Floor Renewal
Hardwood floor refinishing is an important part of protecting the wood and refreshing the appearance of your home or business. Over time, the finish gets scratched and starts to wear away. This can make the floor look dull and worn. That's actually good because the finish is getting damaged and not the hardwood itself. Hardwood floor refinishing restores or replaces this protective layer, so it is important to do it whenever your floor begins to look worn.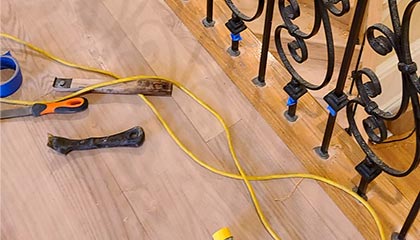 Feet Up Carpet Cleaning of Alexandria can screen and recoat your existing finish, or sand down to bare boards and apply a beautiful and durable new finish. We've also joined forces with Hardwood Revival, a company specializing in wood floor refinishing and restoration, for more complicated cases. Hardwood Revival's team of experts can assist you with any wood floor question or need, so don't hesitate to contact them.
Wood is one of the most mold contagious materials. Mold damages wood very rapidly. That's why mold inspection and mold removal can save you a pretty penny.
Professional Results
When it comes to wood floor refinishing, it takes a professional with experience to get great results. It only takes a second with a sander to gouge into the wood of the floor, so leave this work to our professionals.
Feet Up Carpet Cleaning of Alexandria has refinished many floors and we know how to make sure that your floor looks amazing again. We are happy to come to your home or office to provide a free, no obligation estimate. Call today 703-635-7342!