Deep Mattress Cleaning And Steam Mattress Cleaning: Know The Difference
Our mattresses are prone to dust, sweat, and spills even when you have layered mattress pads upon them. Even our pillowcases are washed regularly, so why not clean the mattress? If you are constantly experiencing allergies, illnesses, and colds, your dirty mattress may be one of the reasons behind it. It is recommended that you deep clean a mattress every six months to get rid of all the dirt and dust. Both deep cleaning and steam cleaning are effective mattress treatment options; the difference lies in their intensity.
Deep Cleaning
Properly cleaning your mattress is necessary to remove all the elements that are harming your family's well-being. Deep cleaning is a process that uses professional cleaning tools and the best cleaning supplies available to clean out your mattress well beyond the surface.
Moreover, over the course of six months, your mattress may have experienced a lot. There may be hidden stains of dirt, sweat, or other things. If you have a pet who likes to share your bed, then there will definitely be some other kinds of stains. Deep cleaning of mattresses allows you to get rid of the stains and bring new life to your mattress.
After this process, you will see a significant difference in the way the mattress looks. Moreover, regular deep cleaning can increase the life of your mattress as well.
Steam Mattress Cleaning
It is also a process that deep cleans a mattress, using steam cleaning, also known as hot water extraction, to refresh and renew your mattress. Mattress steam cleaning is a process that acts on tough stains and odor. It can effectively remove the dust mites that are not visible through your naked eyes. These are responsible for many allergies and breathing issues. And steam cleaning a mattress is one of the effective ways to get rid of them.
Moreover, they are a more environmentally friendly approach to cleaning your mattress. After using it for six months without any sort of cleaning, your mattress may have developed stains and odor. The stains and odor cannot be removed just by home cleaning. You need professional steam services to get rid of them.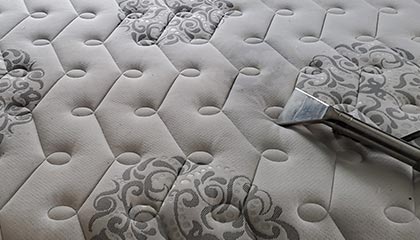 Mattress Treatment: What Steps Does It Include?
Instead of doing it by yourself, it is better to rely on a professional to do this job. Feet Up Carpet Cleaning of Alexandria has a very organized approach, using professional tools and equipment to thoroughly clean your mattress and gets rid of all the dirt, dust, stains, and odor. They deep clean a mattress and make it look as new as ever. Here are the steps that are often used for our excellent mattress treatment solutions:
Contact Us
The first step towards amazingly clean mattresses is to give us a call at 703-635-7342 to arrange an appointment. You can also contact us directly here.
Getting The Work Done
Based on the date and time you have selected, professionals from Feet Up Carpet Cleaning of Alexandria will arrive at your home. They will carefully assess cleaning needs and get to work. The best part of using professional cleaning services is that the professionals do not leave any stone unturned. They will clean out your mattress inside out to make it appear as new as ever. Carpet Cleaning professionals use advanced tools and equipment to get the best results.
Your Approval
Once the work is done, the team waits for your approval before leaving. You can check the work, and when you give the thumbs up, then only the team leaves.
Professional Methods Of Mattress Cleaning
The professionals at Feet Up Carpet Cleaning of Alexandria use the most effective and thorough mattress cleaning methods to provide you with the best results.
Industrial Strength Cleaning
In this process, the experts leverage the best cleaning chemicals and equipment to treat the tough stains and odor in the mattress. The method will get rid of all the dust and dirt that is being stuck on your mattress for a long time.
Hot Water Extraction
This is a more sustainable way of mattress cleaning, which uses steam. Using hot water, the experts remove all the dirt, dust, stain, and odor from your mattress. Subsequently, the mattress is properly dried and placed back in its position. Within a few hours, you will get a mattress that looks as new as ever.
If you are looking for a reliable mattress cleaning solution in Alexandria, then get in touch with us today. The experts here will be quick to process your request.