What's Rug Cleaning?
Professional rug cleaning is something that responsible rug owners should commit to. A professional rug cleaning service in Alexandria is gentle enough to clean deep down into the fibers of the rug but gentle enough not to cause any harm or damage to your unique investment. Feet Up Carpet Cleaning of Alexandria owns and operates our own cleaning facility dedicated to natural rugs that require hand washing, typically Oriental and Persian rugs.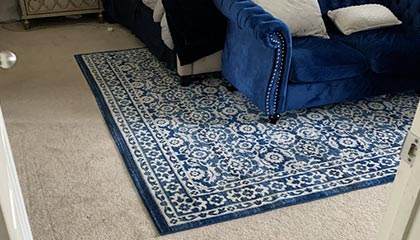 The process of cleaning first starts with analyzing what cleaning solution your rug needs. For synthetic, store bought rugs, hot water is used to extract dirt and bacteria from the rug fibers. Next, special solutions and cleaning tools are used to remove even the most stubborn stains. For more expensive heirlooms, a first step of pre-dusting is done by hand in order to gauge the real status of your rug without layers of debris. Next, a hand washing and grooming is carried out by one of our expert craftsmen, followed by a temperature controlled drying.
Does My Rug Really Need to Be Cleaned?
Rugs see a lot of foot traffic throughout the day, and this means that they absorb dirt, dust, mold spores and other allergens, bacteria, and even food and pet hair. When you consider how many people (or animals) walk on it throughout the day, it is no surprise that no carpet can remain its best without being maintained every once in a while. We can clean synthetic and smaller rugs on your premises but larger and natural rugs will be taken to our facility and returned to you at no extra cost.
For more information on your particular rug and its cleaning requirements or to schedule a free price estimate, please contact Feet Up Carpet Cleaning of Alexandria today at 703-635-7342!