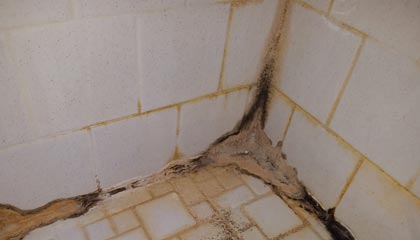 The Easy Path to Clean Grout
Feet Up Carpet Cleaning of Alexandria invites you to offer your scrub brush an early retirement. Our tile and grout cleaning service goes a step above the ordinary, offering extraordinary results that will bring a smile to your face.
There's no reason to invest your valuable free time, bending over to scrub endless grout line by aching line. Our professional grade equipment means that the job will be done in a flash, and we can make sure that the results are long-lasting by sealing the newly cleaned grout.
Our technicians are professional, courteous, and moreover experienced. We offer cleaning for all kinds of tile and stone floor surfaces, and we can do amazing things with commercial kitchens, restaurant floors, and public restroom facilities. We also offer mold inspection and testing. If you don't see black mold on bathroom tiles - that's great, but it can still be white, green, red, and even pink. Feet Up Carpet Cleaning of Alexandria likes to propose a healthier way to clean mold and other spots from tile or grout.
Call Feet Up Carpet Cleaning of Alexandria at 703-635-7342 and get ready to enjoy your floor again.