Fast Response for Water Damage Restoration
Feet Up Carpet Cleaning of Alexandria has just about seen it all. Through our service in the DC area, we have repaired damage from small kitchen floods to serious damage from sewer back-ups. Every job has its own challenges, but the one common factor is that a timely response helped prevent further damage. Damage from untreated water damage can cause wooden framing to mold and rot. The truth is, the longer water is left to sit, the more expensive the restoration will be.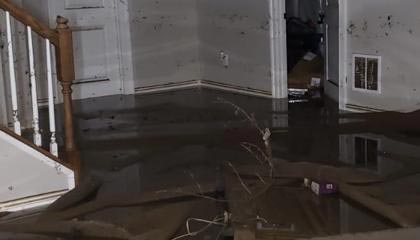 Water Removal and Beyond
Sometimes all you need is to remove the water from the carpet and your property will be just fine. We can take care of emergency water removal promptly. Just call our office at 703-635-7342 and our team will be at your location before you know it.
You can also turn to Feet Up Carpet Cleaning of Alexandria for more extensive water damage. Because we can be there quickly to start the work, we help you avoid secondary damage from mold and bacterial growth. Water gets trapped in hidden places like wall cavities, and even prolonged humidity in your attic as water evaporates can lead to dangerous mold growth. You can't notice mold spots immediately after a flood, but they can be already in the house. Mold inspection will detect fungus spores in your home and let you know what to do next. A full restoration uses dehumidifiers to remove all excess moisture, even from the air, to bring your property back to pre-loss condition.
Serious Water Damage?
Don't Lose Hope!

Water damage can be very devastating, but with the right restorers your property can be back to its undamaged condition quickly. We have teamed up with Flood Damage Pro for this purpose exactly. They are specialists of water damage restoration, and able to restore your property from wrecked to almost new with great skills and experience.
Feet Up Carpet Cleaning of Alexandria will work with your insurance company for your water damage claim. Call our emergency hotline at 703-635-7342 24/7 for a prompt response and a complete solution.