Mold Testing in Alexandria
We recommend Mold Testing if:
You need to know if there is mold because you can't see it.
You need official documentation of mold growth.
What we collect - our mold inspectors collect two samples depending upon the presence of the mold. They will either collect an air sample or a surface sample, from the area where mold growth may be occurring (the area of concern). An air sample will be collected also outdoors as a control sample.
Testing - Once collected, the two samples are sent off for laboratory testing. In just a few days, you will receive a report stating the test results. If you are in a hurry, results can be rushed for an additional fee.
The mold testing service costs $395 including the price of two samples. If additional samples are necessary, you'll be charged $95 for each sample. It is very rare that additional samples are needed or that more than one or two are needed.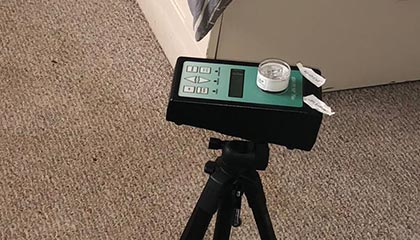 Mold Inspection Done the Right Way
Feet Up Carpet Cleaning of Alexandria conducts a detailed procedure to ensure that the house is inspected thoroughly and customer needs are satisfied.
What we inspect - during the inspection process, our inspectors will carefully inspect interior walls, looking for signs of mold or even prior water damage, which could hint at mold growing out of sight. We may use a Thermal Imaging Camera or a Moisture Meter to find specific areas that are wet and might have hidden mold. In the second phase, areas below the sink, inside the closet, around doors and windows, and utility rooms among others are checked for mold presence.
For any mold issues the mold inspector discovers, he or she will plan the resources required for a complete remediation and provide you with a detailed written estimate. If there isn't a major issue, we will issue a generic report and tips on how to keep the mold in control.
Our mold inspection service is priced at $149 and is conducted by a mold specialist.
Mold Testing and Mold Inspection Cost
So, do you still doubt whether to call a specialist for mold inspection and testing?
Many people are aware of the dangers of mold and its ability to cause serious respiratory problems, but they may not realize the full extent of the dangers. Calling a specialist to check for mold in your home is always a good idea. We will tell you for sure if there is mold present in your premises. Prices for mold testing and additional services are below:
| | |
| --- | --- |
| Mold inspection | $149 |
| Mold testing | $395 |
| Any additional samples for mold testing | $95 |
| Moisture issues detection with thermal imaging camera | $129 |
I Have Mold, So What's Next?
If there's an elevated problem, we recommend you to start the mold removal process immediately. You can choose to hire Feet Up Carpet Cleaning of Alexandria for mold remediation. We will give you a detailed plan about how we will do everything and you will be guided throughout the process.
We can help you build a healthier home with our mold removal and testing services. Give us a call today! 703-635-7342.